Hosting a holiday meal? Be sure to keep you and your guests safe by following these 5 food safety tips for a safe holiday meal!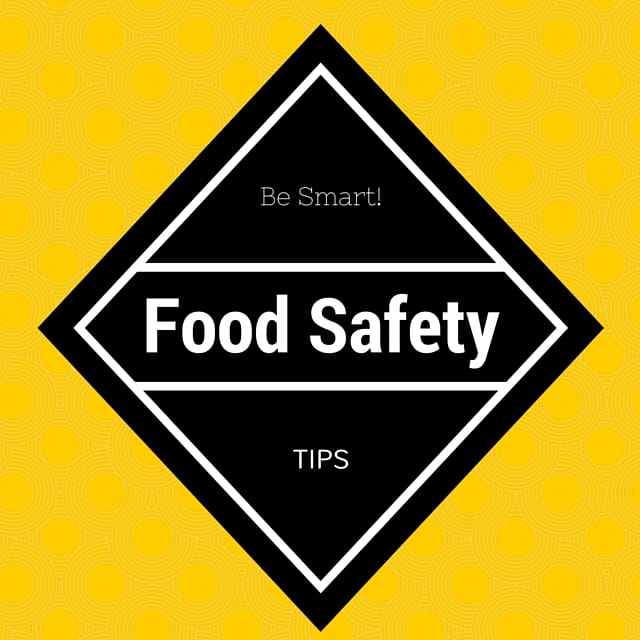 Happy almost Thanksgiving!
For those of you already off, woohoo! For those who've got a few hours to go, hang in there, you're almost there!
With Turkey Day t-minus 48 hours away, I thought it was the perfect time to do a gentle PSA (public service announcement) regarding food safety and those holiday buffets. Don't worry, I'll keep this brief since I know you have cooking to get to.
Here's my top 5 food safety tips for hosting a healthy and safe Thanksgiving meal.
Keep hot food hot & cold food cold.

Sounds simple, right? Make sure you reheat all those dishes cooked the day prior or brought by your out of town guests to at least 165*F before serving.
Be sure to hold them above 135*F by placing them under a heat lamp, or using one of those creative hot holding dishes from Bed Bath & Beyond.
Also, either store within two hours or toss after four hours if temperature drops into that danger zone, aka between 135-41*F.

Make sure cold hordevous like deviled eggs, cut melons and side salads are kept on an ice bath. Use a larger dish, fill the basin with ice and place the smaller dish on top. It can also add some texture to your buffet!

When in doubt, throw it out! #Realtalk, ain't no one wants to be spend a three day weekend sick!

Watch those PHFs (Potentially Hazardous Foods).

Foods like mayonnaise, cooked pastas/rice/stuffing, turkey, melons and items containing eggs are just a few. Make sure you properly store them to keep them away from developing bacteria that can make you ill.

Hint: Pumpkin pie should be kept in the fridge- don't leave it on the counter over night!

Wash your hands!

Yes, I know you're not a two year old, but sometimes we all need a reminder. If you've been helping prep that raw turkey, or took a quick trip to the trash can and lifted the lid, make sure to come back and wash those hands! Bacteria and germs are easily spread at this time of the year and we want to keep the food safe, right?

Taste and toss.

Sure, we're all family and friends. But, little one's and our elders have a highly susceptible immune system. Let's be sure we keep everyone safe and avoid double dipping while tasting those culinary creations.

Cool leftovers prior to storing.

Before you take that turkey soup you made out of your leftover turkey day treats, be sure to let it cool. Bacteria can develop when you immediately cook a product and transition the temperatures drastically. Pour items into smaller, shallow containers and let it rest on your counter before you stick it in the freezer.
Wishing you all a safe, happy and healthy holiday! I'm thankful for each and every one of you who've supported Simple Swaps these past two years! Thank you for keeping my passion alive. XOXO ~ Liz