The Night I Ate a Box of Puffins in 24 Hours + 30 for 30 Challenge Deets!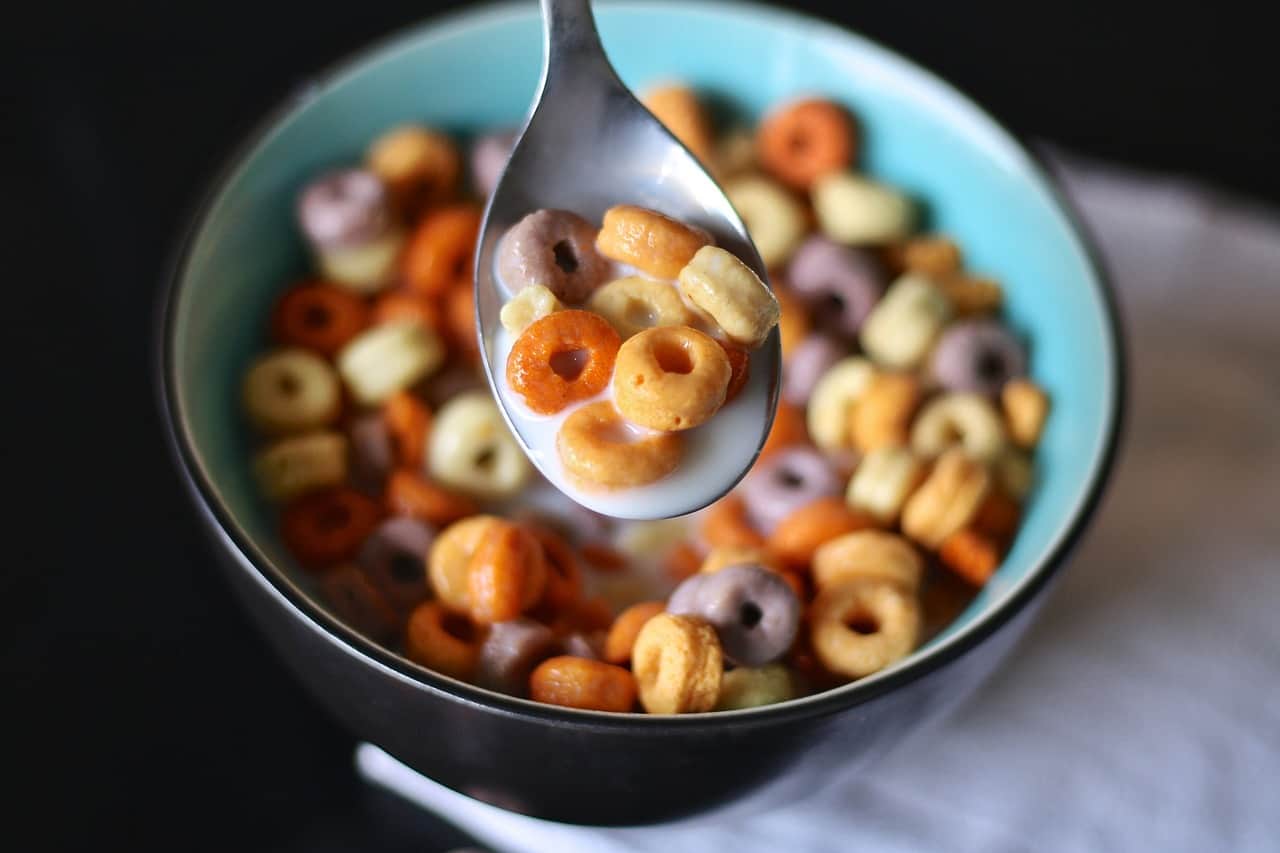 It's 6pm on a Wednesday night and my body is telling me two things: "I want chocolate and sugar".
The sensible thing to do, grab a banana, drizzle some peanut butter and top with cocoa nibs.
What I actually did… ran down to the grocery store and picked up a box of Peanut Butter & Chocolate Puffins and a pint of Halo Top Vanilla Bean.
On the way home, I opened the Puffins and before I knew it at least a serving or two were gone.
I assembled my sundae within minutes after walking through the door, not checking in at all if I was truly hungry or even wanted the snack anymore… completely mindless.
Of course, the bottom had two tablespoons of my love, powered peanut butter, followed by a 1/2 cup of Halo Top and crunched Puffins on top.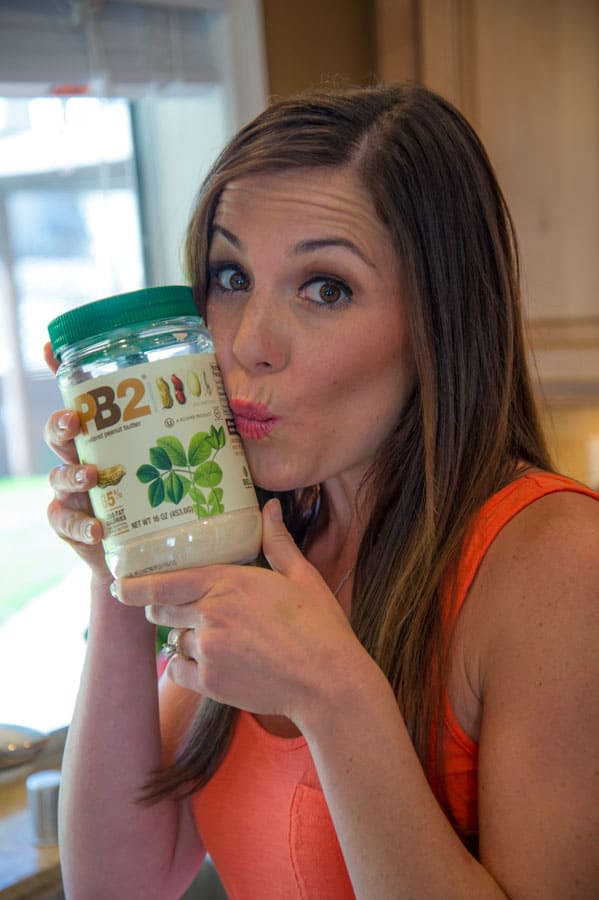 Delicious and a way to give new meaning to the saying "gone in 60 seconds."
I couldn't sleep well, likely from the mini sugar coma I had put myself in and woke up at 3am, starving! My blood sugar dropped and I indeed wanted something stat.
Another bowl of Puffins, check. Alright, it's 430 AM now, try and get some sleep now Liz!!
BUZZ, BUZZ… I hear my phone vibrating!  Holy smokes, it's 8 AM!
Up and at it (thankfully I work from home and have flexibility in this) and down to my office.
9 AM rolls around, another bowl of Puffins with a handful or two to snack on as I poured the milk.
Werk…werk…werk! 
12 AM… hmm, a salad sounds good, followed by in fact, another small bowl of Puffins to polish off the box.
And that my friends is a REAL LIFE moment of the week. 
I am NOT proud of it, but tell you this to show you again I am human, too. I understand the struggles you are going through and how sometimes mindless eating gets the best of us.
It's no secret I've felt very out of my skin the last year as Mr. CEO and I have gone through major infertility treatments. (More details on that here.)
But, after becoming completely engrossed in the book Body Kindness, I realize there are many things I'm not doing that I actually love to practice Body Kindness.
Enter – the 30 for 30 Challenge.
In 28 days, I'll be journeying into my thirties and definitely want to feel as great as I did a decade ago (relatively speaking).
Recognizing the one main part of my fitness that I've really neglected this past year has been my strength training and core muscles, I took a vow to try a 30 for 30 challenge.
Though this may look different for each of us, here's what I've committed to.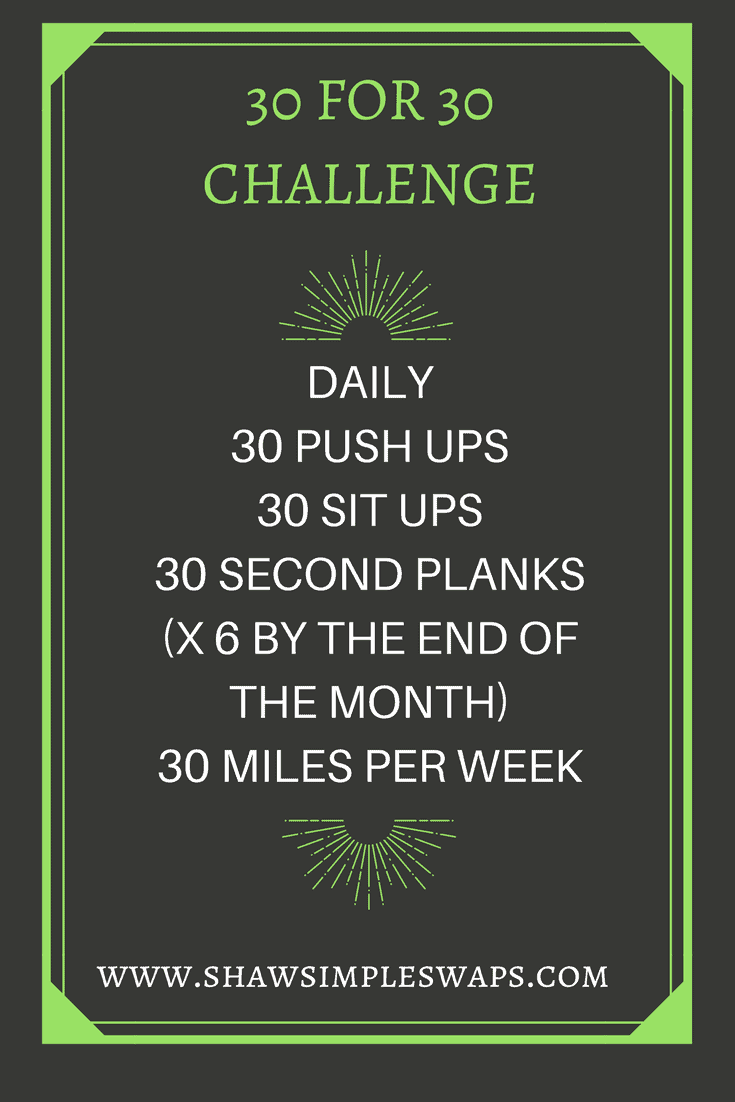 Now, if you're not sure where to start, don't worry!
Just get up and commit to moving. Maybe it's parking further when you're out shopping, or maybe you're ready to give this regimen a go!
Remember, just make sure you're doing whatever you choose to do because you ENJOY it, not because you think you should.
It's more likely to become a habit when you actually love what you're doing.
Case and point- I love when I do pushups and sitting-ups because it makes me feel strong, empowered and gives me a time to connect with Mr. CEO. We both enjoy fitness and getting back into this together helps us connect more!
Whatever you choose to do, please share by commenting below!
I'll be choosing three lucky winners for a special birthday present to YOU when October 28th rolls around.
Let's chat! 
What's your favorite form of activity?!